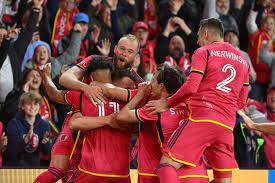 St. Louis City SC made its home opener a memorable one. On Saturday night, the USL Championship club hosted Sporting Kansas City II in its first match in front of its home crowd. The match ended in a 1-0 win for St. Louis City SC, with a goal scored by forward Albert Dikwa in the second half.
The win was the perfect way to kick off the season for St. Louis City SC, and the club is hoping to use the momentum to make an impact on and off the field. The team is dedicated to being a positive force in the St. Louis area, and plans to use its platform to give back to the community.
The club is already involved in various community initiatives, such as the "Blue Tank" movement that aims to fight poverty in the city. St. Louis City SC is also partnering with local companies and organizations to help create job opportunities.
In addition to its community initiatives, St. Louis City SC is also dedicated to providing a top-notch experience for its fans. The club is constantly adding to its fan base, and is working to make sure that its matches are safe and enjoyable for all.
The club is also investing in its infrastructure and facilities, as it continues to build its brand and identity. St. Louis City SC's new home at West Community Stadium is the perfect place to watch matches, and the club is continuing to make improvements to ensure that it is a great place to watch soccer.
St. Louis City SC is determined to make an impact both on and off the field, and the club's win in its home opener is just the beginning. The club is hoping to make a lasting impression on St. Louis and the soccer community, and with its dedication to community initiatives and its commitment to providing a great fan experience, St. Louis City SC is sure to make an impact.