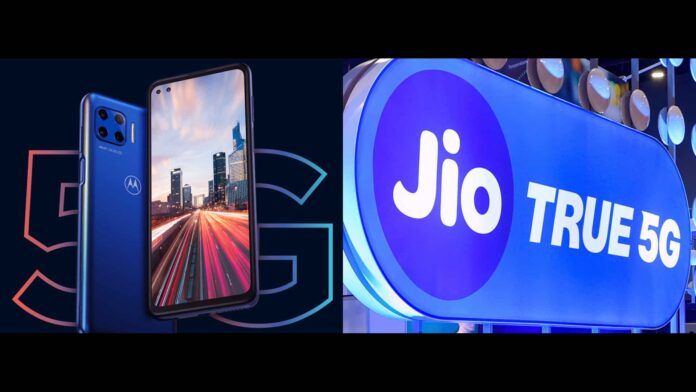 Motorola, Inc. was an American multinational telecommunications company based in Schaumburg, Illinois, United States.
After having lost $4.3 billion from 2007 to 2009, the company split into two independent public companies, Motorola Mobility and Motorola Solutions on January 4, 2011.
It is a subsidiary of the Chinese multinational technology company Lenovo.
Reliance Jio on Wednesday announced its partnership with Motorola to enable 'True 5G' across Motorola's extensive 5G smartphone portfolio in India. The smartphone company has rolled out software updates which will enable users to use Jio's True 5G across its extensive 5G portfolio.
"Motorola comes with advanced 5G features such as carrier aggregation, 4×4 Mimo and support for most 5G bands in India. These features along with Jio True 5G network will unleash the true potential of 5G in India.
Motorola with 5G Network
All jio users using motorola devices will be able to access truly unlimited 5g internet under the jio welcome offer in areas where jio true 5g has or is being rolled out rapidly."
Motorola has as always raised the bar to ensure that 5g experience on their smartphones is truly the best in the industry – with exceptional reliability, optimization, coverage and security, with industry-leading speeds and higher coverage in both urban indoor and rural areas.
Motorola prides itself as the first OEM in the world to launch a 5G smartphone. That isn't entirely true, though, considering that the phone in question – the Moto Z3 – actually came with a 5G mod which is designed to deliver 5G connectivity to an otherwise 4G phone. While that could be argued as making the device the first 5G phone, the MotoMod wasn't available until a few days after the Samsung Galaxy S10 5G was released. Thus, the Galaxy S10 is actually the first 5G phone to hit the market.
"All Jio users using Motorola devices will be able to access truly unlimited 5G internet under the Jio Welcome Offer in areas where Jio True 5G has or is being rolled out rapidly,"