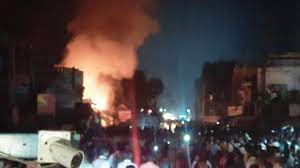 A fatal fire broke out in a firecracker shed in Tamil Nadu, India, resulting in one death, according to reports by ANI. The incident took place in the town of Tiruvannamalai, where the shed was located in a residential area. The fire is believed to have been caused by a spark from a firecracker, which then quickly spread and engulfed the entire shed.
The fire brigade was immediately informed and they quickly arrived on the scene to contain the blaze. However, despite their efforts, the fire had already caused significant damage to the shed and the surrounding structures. Unfortunately, one person was declared dead due to the fire. The cause of death is still being investigated, but it is believed that the victim was trapped inside and unable to escape.
The incident has left the local community in shock, as the firecracker shed was a popular spot for festivals and celebrations. Residents are now calling for better safety regulations to be put in place to prevent similar tragedies from happening in the future. The Tamil Nadu government has launched an investigation into the incident, and has promised to take strict action against anyone found to be responsible for the tragedy. In addition, they have promised to provide financial assistance to the families whose homes were damaged or destroyed by the fire.
The tragedy serves as a reminder of the importance of safety regulations when using firecrackers, especially in densely populated residential areas. It is essential that people take extra care to ensure that sparks do not occur, and that firecrackers are stored in a safe place. The loss of life in this tragedy is truly heartbreaking, and our thoughts are with the victim and their family during this difficult time. Hopefully, this incident will serve as a reminder for everyone to take extra precautions when using fireworks, and to ensure that safety regulations are followed at all times.